Fire Weather Maps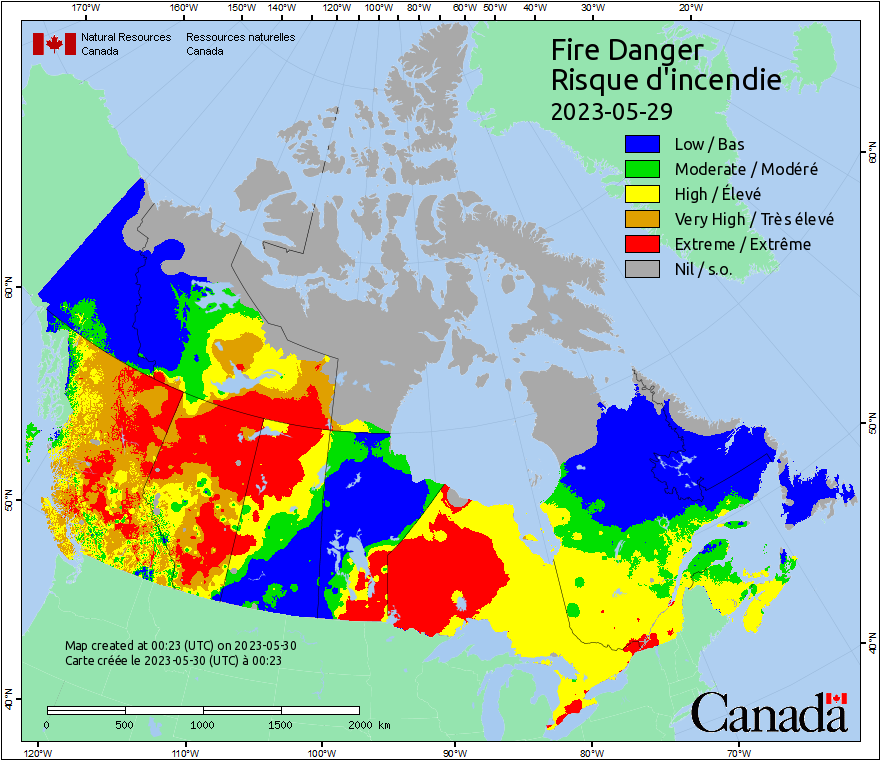 Fire Danger is a relative index of how easy it is to ignite vegetation, how difficult a fire may be to control, and how much damage a fire may do.
Note: These general fire descriptions apply to most coniferous forests. The national fire danger maps show conditions as classified by the provincial and territorial fire management agencies. Choice and interpretation of classes may vary between provinces. For fuel-specific fire behavior, consult the Fire Behavior Prediction maps.
Legend

| Status | Description |
| --- | --- |
| Low | Fires likely to be self-extinguishing and new ignitions unlikely. Any existing fires limited to smoldering in deep, drier layers. |
| Moderate | Creeping or gentle surface fires. Fires easily contained by ground crews with pumps and hand tools. |
| High | Moderate to vigorous surface fire with intermittent crown involvement. Challenging for ground crews to handle; heavy equipment (bulldozers, tanker trucks, aircraft) often required to contain fire. |
| Very High | High-intensity fire with partial to full crown involvement. Head fire conditions beyond the ability of ground crews; air attack with retardant required to effectively attack fire's head. |
| Extreme | Fast-spreading, high-intensity crown fire. Very difficult to control. Suppression actions limited to flanks, with only indirect actions possible against the fire's head. |
| Nil | No calculations were performed for this region. |
Forecasted weather data provided by Environment Canada. More information about forecasted weather is available in the Background Information.
More information about the Canadian Forest Fire Weather Index (FWI) System is available in the Background Information.
Maps updated daily, year-round.