Fire M3 Hotspots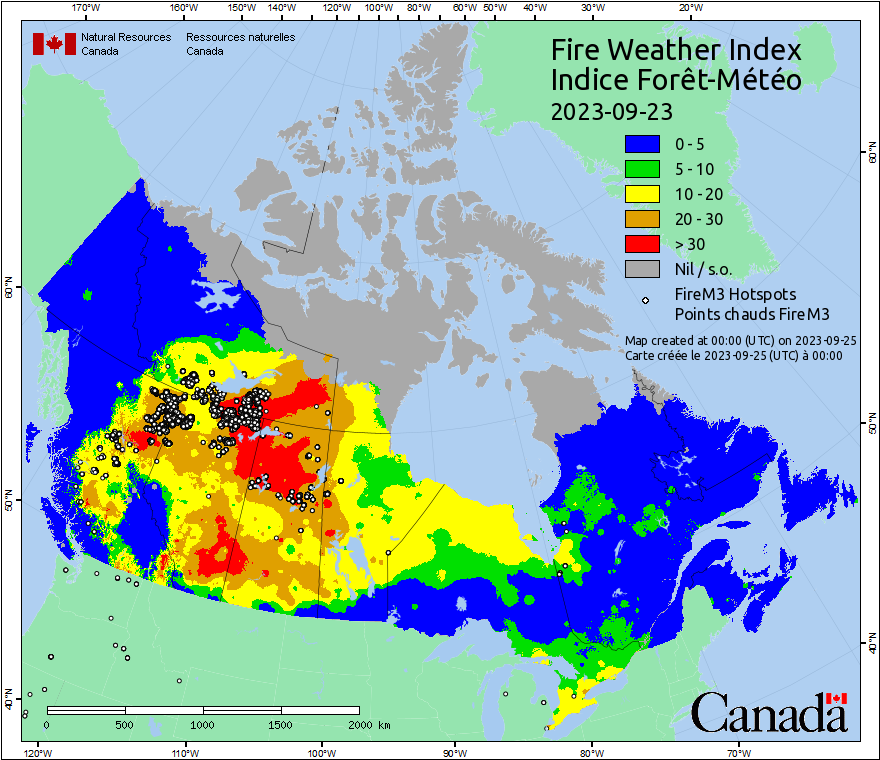 A hotspot is a satellite image pixel with high infrared intensity, indicating a heat source. Hotspots from known industrial sources are removed; the remaining hotspots represent vegetation fires, which can be in forest, grass, cropland, or logging debris. A hotspot may represent one fire or be one of several hotspots representing a larger fire. Not all fires can be identified from satellite imagery, either because the fires are too small or because cloud cover obscures the satellite's view of the ground.
The Fire Weather Index (FWI) is a component of the Canadian Forest Fire Weather Index System. It is a numeric rating of fire intensity. It combines the Initial Spread Index (a numerical rating of the expected rate of fire spread) and the Buildup Index (a numerical rating of the total amount of fuel available for combustion). It is suitable as a general index of fire danger throughout the forested areas of Canada.
Forecasted weather data provided by Environment Canada. More information about forecasted weather is available in the Background Information.
More information about Fire M3 is available in the Background Information.
Smoke Forecasts for Canada available at: FireSmoke.ca and Firework.
Fire M3 maps and reports are updated daily from May through September.