Fire M3 Hotspots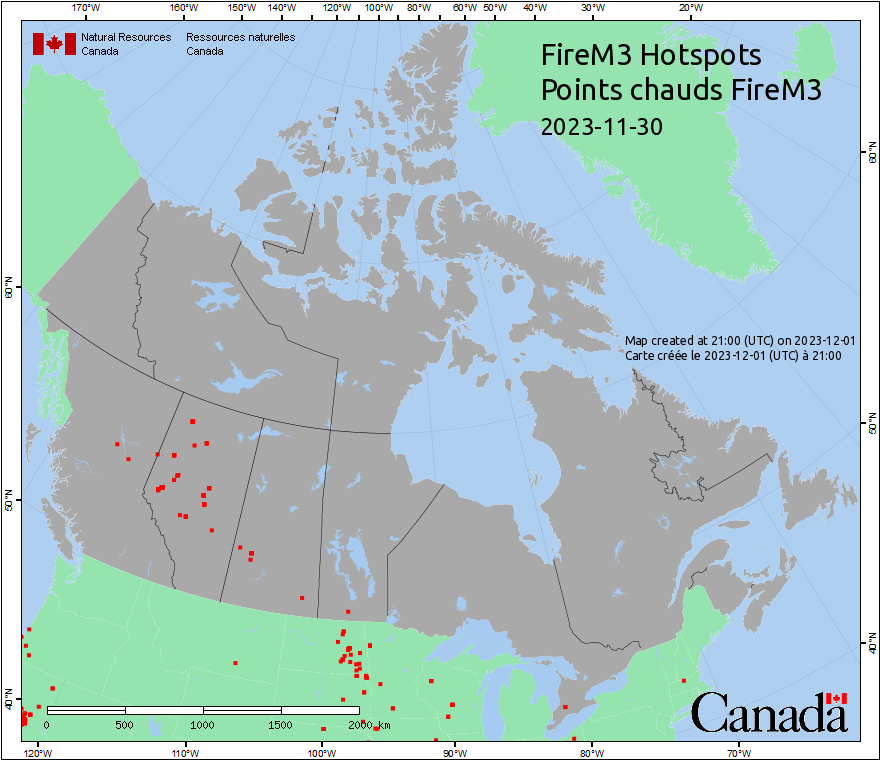 A hotspot is a satellite image pixel with high infrared intensity, indicating a heat source. Hotspots from known industrial sources are removed; the remaining hotspots represent vegetation fires, which can be in forest, grass, cropland, or logging debris. A hotspot may represent one fire or be one of several hotspots representing a larger fire. Not all fires can be identified from satellite imagery, either because the fires are too small or because cloud cover obscures the satellite's view of the ground.
The Fire M3 hotspots are obtained from multiple sources:
Advanced Very High Resolution Radiometer (AVHRR) imagery, courtesy of the U.S. National Oceanic and Atmospheric Administration (NOAA) National Environmental Satellite, Data and Information Service (NESDIS).
Moderate Resolution Imaging Spectroradiometer (MODIS) imagery, courtesy of the National Aeronautics and Space Administration (NASA) Land, Atmosphere Near real-time Capability for EOS (LANCE) Fire Information for Resource Management System (FIRMS), and from the Active Fire Mapping Program, Remote Sensing Applications Center (RSAC), USDA Forest Service. (https://fsapps.nwcg.gov/afm/)
Visible Infrared Imaging Radiometer Suite (VIIRS) imagery, courtesy of NASA LANCE FIRMS, University of Maryland and RSAC.
More information about Fire M3 is available in the Background Information.
Smoke Forecasts for Canada available at: FireSmoke.ca and Firework.
Fire M3 maps and reports are updated daily from May through September.