CWFIS Datamart
Metadata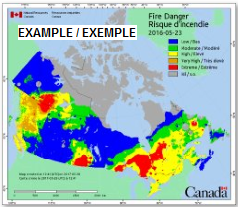 Current Fire Danger
Description
Fire Danger is a relative index of how easy it is to ignite vegetation, how difficult a fire may be to control, and how much damage a fire may do. Fire Danger is a reclassification of the CFFDRS fire weather index (FWI) which is a numeric rating of fire intensity.

These general fire descriptions apply to most coniferous forests. The national fire danger maps show conditions as classified by the provincial and territorial fire management agencies. Choice and interpretation of classes may vary between provinces. For fuel-specific fire behavior, consult the Fire Behavior Prediction maps.

• Low: Fires likely to be self-extinguishing and new ignitions unlikely. Any existing fires limited to smoldering in deep, drier layers.
• Moderate: Creeping or gentle surface fires. Fires easily contained by ground crews with pumps and hand tools.
• High: Moderate to vigorous surface fire with intermittent crown involvement. Challenging for ground crews to handle; heavy equipment (bulldozers, tanker trucks, aircraft) often required to contain fire.
• Very High: High-intensity fire with partial to full crown involvement. Head fire conditions beyond the ability of ground crews; air attack with retardant required to effectively attack fire's head.
• Extreme: Fast-spreading, high-intensity crown fire. Very difficult to control. Suppression actions limited to flanks, with only indirect actions possible against the fire's head.

Forecasted weather data provided by Environment Canada. More information about forecasted weather is available at http://cwfis.cfs.nrcan.gc.ca/background/dsm/fwi
More information about the Canadian Forest Fire Weather Index (FWI) System is available at http://cwfis.cfs.nrcan.gc.ca/background/summary/fwi

Maps are produced using Spatial Fire Management System and are updated multiple times per day.

Maps updated daily, year-round.
Supplemental Information
The Canadian Forest Fire Danger Rating System (CFFDRS). is a national system for rating the risk of forest fires in Canada.

Forest fire danger is a general term used to express a variety of factors in the fire environment, such as ease of ignition and difficulty of control. Fire danger rating systems produce qualitative and/or numeric indices of fire potential, which are used as guides in a wide variety of fire management activities.

The CFFDRS has been under development since 1968. Currently, two subsystems–the Canadian Forest Fire Weather Index (FWI) System and the Canadian Forest Fire Behavior Prediction (FBP) System–are being used extensively in Canada and internationally.
Licenses
Open Government Licence - Canada (http://open.canada.ca/en/open-government-licence-canada)
When the Data is displayed, in print, electronically, or otherwise, the source (i.e., Natural Resources Canada) must be acknowledged along with the following citation: Canadian Forest Service. 2022. Canadian Wildland Fire Information System (CWFIS), Natural Resources Canada, Canadian Forest Service, Northern Forestry Centre, Edmonton, Alberta. http://cwfis.cfs.nrcan.gc.ca.
Data Resources
Contact

Justin Beckers, Physical Scientist - GeoInformatics
Government of Canada; Natural Resources Canada; Canadian Forest Service / Northern Forestry Centre
825-510-1160
justin.beckers [ at ] canada.ca

For additional information, please see the metadata included with the data itself.